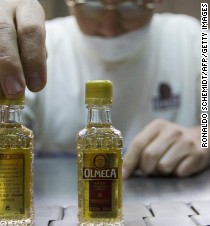 (CNN)Icy beers, empty beaches.
It's a compelling image, but it captures only a feeble percentage of the diversity and excellence that imbues one of the most incredible countries in the world.
Here are 10 things Mexico does better than anywhere else.
Tequila
Mexico's national liquor is a worldwide bar standard, with exports to 96 countries.
But don't come to Mexico expecting to impress locals by chugging a syrupy sweet margarita or knocking down manly shots all night.
Tequila is meant to be sipped and savored, like fine whiskey, which, as any Mexican will tell you, the best tequila can compete with.
You can get a taste of the branded stuff on tours such as The Tequila Express operated by Casa Herradura and the Jose Cuervo Express tour.
Curing hangovers
Mexican parties are notorious for going berserk in the blink of a bleary eye.
That, of course, leads to a familiar disaster the following morning.
Fortunately, Mexico's kitchens spring to life with the best hangover grub on the planet.
Wake up, guzzle water then inhale some spicy chilaquiles, carnitas (pork) or barbacoa (sheep) tacos with hot sauce and plenty of revitalizing grease — maybe slam a light breakfast beer if you're in really rough shape — and you'll be back making requests from the band by nightfall.
Soap operas
In 1958, Telesistema Mexicano produced "Senda Prohibida" ("Forbidden Path"), the first Mexican telenovela (soap opera).
Fifty-six years later, its successor Televisa has produced a whopping 740 telenovelas.
The formula hasn't changed much.
A man and woman fall in love but, for tragic reasons, can't be together. After overcoming obstacles they finally get married.
Fifteen years after exporting its first soap opera, "Los Ricos Tambien Lloran" ("The Rich Cry Too"), Televisa has found a rich market outside Mexico.
Of all countries that export soap operas, Mexico ships out the most (arguably after the United States), carving niches in other Spanish-speaking countries, as well as China, the Philippines, Israel and Saudi Arabia. (Link in Spanish.)
Televisa isn't the only network producing successful telenovelas.
TV Azteca and Argos Comunicacin also create top-notch weepers.
Wrestling costumes
Professional wrestling (lucha libre) may be more Hollywood north of the border, and grittier in other countries, but nowhere is it as full of pathos as in Mexico.
Those hilarious/spooky masks aren't just fun to look at, they're a major part of the drama.
Removing one from an opponent's head is one of the greatest triumphs and most thrilling moments in lucha libre.
Matches are held at Arena Mexico in Mexico City. Tickets can be purchased from Ticketmaster.
Polite lies
Mexicans' deep fear of appearing rude has given us a bred-in-the-bone aversion to uttering the word "no."
Instead — and unfortunately for those unfamiliar with the rules of courtesy here — we've developed a talent for white lies that allow us to say yes to fulfilling any request.
Even if we can't do anything about it.
White lies can be as clichd as "the dog ate my homework" or as morbid as "my beloved great aunt has suddenly developed pancreatic cancer."
But the granddaddy of polite lies is "ahorita."
"Ahorita" literally means "right now," but it's almost never that.
When a Mexican tells you they'll do something "ahorita," be prepared to take a seat, because the wait can be long.
Think of ahorita as the Mexican art of procrastination — it's been passed from generation to generation — a term that can mean anything from "in 10 minutes" to "in three weeks."
Ahorita's cousin in crime is "I'm on my way."
This really means, "I'm on my way to finishing this TV show, maybe getting off the couch, calling my sister, taking a shower, grabbing a snack and actually leaving home to meet you."
You've been warned — we're great at it!
Original Story: http://www.cnn.com/2014/05/21/travel/10-things-mexico/index.html